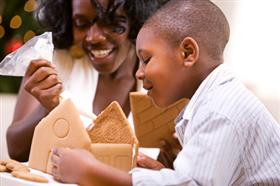 Fair warning: If the kids help, your gifts are bound to look less professional -- but that will just make them all the more valued by the giftee, so be brave and stop worrying about making your gifts look professional.
Remember that your goal is to have fun with your child and give a token of affection, not to exhaust yourself by showing off your perfection. We all know you're more than enough, just the way you are. You don't need to show us how terrific you are with perfectly made gifts! Any parent who makes presents with her kids is by definition terrific. Take photos of your child making the present and Grandma will think it's priceless.
Why not just whip up big batches of something most folks will like (Fudge? Bath salts?) and finish all your presents in one weekend, while having fun with your kids?
Here's a bakers' dozen list of ideas to get your creativity fired up; more explicit directions are easily available online.
1. Booklet of favorite memories.
Have your child draw illustrations and dictate his or her favorite memories of/with the recipient and put it into a binder along with photos to make a very special gift book. Resist the urge to correct misspellings or funny comments; that's part of what makes this gift endearing.
2. Anything from your kitchen.
Cookies, jams, fudge, quick breads, your famous spaghetti or barbecue sauce, your special trail mix. Or a kit with the makings for something yummy, tied with a ribbon, like your perfect pancakes or scrumptious seven bean soup. Have your child draw a personalized label.
3. Personalized cookbook.
Your recipes, your child's comments and drawings, in a binder. To make it fancier, include family photos; for instance, accompany Aunt Ann's famous cornbread recipe with her photo.
4. Thank you cards.
Have your kids dictate thank you messages detailing their appreciation to everyone whose presence enriches their life all year long.
5. Handmade bath salts.
Just mix Epsom salts or Kosher salt with essential oils, fragrance, and food coloring. Pour into recycled jars and print out a nice label, or better yet, have your child draw one.
6. Candles.
Add crayon chips to plain paraffin wax and dip wicks in to make hand-dipped candles. Or just let the kids decorate store-bought candles.
7. Picture frames.
Glitter, paint, glue-on shells. And of course add a terrific photo of the artist.
8. Homemade calendars.
...with photos of the kids, of course.
9. Tie-dyed teeshirts, sheets, etc.
You can find lots of instructions and inspiration online for colorful tie-dying.
10. Canvas bags.
Give your kids indelible cloth markers (good to work on a cookie sheet to contain the markers) or use iron-on designs.
11. Art.
For grandparents, a framed picture drawn by a grandchild is the perfect present. Make sure your child adds the date and his age. As an alternative that will be used and treasured for years, make coffee mugs with kids' drawings.
12. For friends and cousins.
The possibilities are endless: bubbles, homemade clay, finger paints, puppets, a kit of dress-up items, a kit of cool art supplies, a book of photos in a three ring binder with laminated pages that you and your kids create together that details how much your child loves his or her cousins and all the things they do together.
13. Certificates for services.
Children can give each other certificates for activities together. They can give adults certificates to help out by walking a dog or cleaning out the garage. And of course, all children love certificates from parents for anything from helping them clean or paint their room to building a tree fort together to a special excursion.